REAL STORIES, REAL MEMORIES
For the last 17 years, our guests have always told us how memorable their holidays have been. That's why we wanted to share some of our real stories and real memories with you.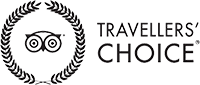 Check us out on TripAdvisor:
What a lovely Hotel, a little Gem
What a fantastic hotel, it's got to be the best family run hotel I've been to. The owner George, nothing is too much, whether it's car hire, Taxi's or local information he always has time for you. The hotel is away from all the restaurants but within easy walking distance of about 5 minutes, where you will find loads of choices. Just a little tip, take a torch for your walk home of an evening, it's a little dark.
The views from the hotel are stunning, you will not be disappointed in anyway with your stay, the food, staff and service is A1. For the 1st time ever we booked to return next year whilst we were there, that's how beautiful our stay was.

Awesome
Awesome place, fantastic service and a great view to the sunrise. The staff was very friendly and helpful. We were lucky, not many people these days. The room are beautiful and so clean, thanks to the staff.

Wow just Wow
I am a regular to the village of Koutouloufari and there is a reason I keep going back as it is one of my favorite places to visit. This year we decided that we would like to stay somewhere different to our usual accommodation and thank god we did as we were so impressed. We stayed in the Adult only luxury pool side suites. I have stayed in 5* hotels and many beautiful hotels but I think the Creta blue pool suites has to be one of the nicest accommodation I have stayed in to date. The rooms are stunning and spotless a double sink in the bathroom a rainshower and a beautiful bath with a tinted window looking out to the sea. We had a lovely terrace which was great to sit out and have a drink in the evening. The bed was so comfortable I thought I would never leave it in the mornings. The one an only negative is that there are no Irons in the rooms but saying this they were very accommodating and whenever we needed on we received it right away. We shared a communal pool with two other couples (fits 4 couples in total). The pool was amazing very comfortable sun beds pool towels provided. The breakfast in the hotel was very nice table service provided a continental breakfast. The location of the hotel was fantastic just above Marni village apartments at first I was a bit daunted thinking the hotel was up a big hill but in fact its not if you walk out of the hotel and walk down the road to the left you are only a 4 minute walk to Nikos the fisherman restaurant (center of the village of Koutouloufari). The staff were amazing I couldn't praise them enough all so sweet and always made an effort to speak to you and make sure you were happy with your stay.
We have already decided to return in May and I CAN'T WAIT! Thank you Creta Blue for an amazing stay.

A beautiful relaxing week
This was our first stay at Creta Bleu and what a beautiful place so peaceful and quiet, the rooms are immaculate and the hospitality and warmth and friendliness of the staff is outstanding. George is so deserving of the reviews already posted nothing is too much trouble such a great family atmosphere. Special thanks to Lavinia what a lovely lady – inside and out she made each guest feel so at home and was funny and bubbly be it first thing in the morning or at the end of the day. We will definitely be back – never experienced such a relaxing week – thank you all very much 😀

Perfect!
When you venture into the unknown when booking a hotel you hope the reviews on here are accurate and fairly reflect the one you choose. In this case they, if anything, don't do it justice as we couldn't have been more pleased, from the fact that the owner drove out to pick us up himself from where the Transfer Coach dropped us (the booking was for airport to hotel but they put us on a coach that couldn't get to the hotel!); to the room (more a suite with a fabulous bathroom, most excellent bedroom with sea view and balcony a few steps from the pool area and the "living" room); the breakfast (yes it's continental but plentiful and lots of options and if you really need more then there are other options you can pay for); the breakfast/restaurant/bar area with great views each and every day and the open air feeling of it); the service (which was personal and friendly from all, being treated more like family than guests); to the location (fabulous views and situation with two great villages a short stroll away – there is are a couple of uphill bits but nothing the average person couldn't deal with); and the excellent pool. I really can't recommend it highly enough, many thanks to all the staff, and of course George, the owner, and his family.

FEELING INSPIRED?
Then take a look at some of our luxury suites today, there's something for everyone.
Superb Small Hotel
Agree with all of the positive comments..Have just returned after a super 10 day stay in a Penthouse Suite…Lovely suite, clean refurbished, wonderful views…Fantastic staff…good food and lovely nearby villages and places to eat!

Very relaxing place – Great Welcome for George and his staff
My husband and I have just returned from a week's holiday at Creta Blue which we enjoyed very much. We had a delightful and relaxing time thanks to George and his very friendly staff.

Spa Room heaven !!!
We stayed in one of the two spa rooms. It was fantastic, well worth the extra cost. The bedroom and bathroom are stunning with great views out over the bay and the food at the hotel is excellent!

The staff are wonderful
This is one of the best holidays I have been on, it's a lovely hotel in a beautiful setting and just the right size but what made this hotel so special were its wonderful staff. Thank you Crete Blue

Lovely relaxing family run hotel
The apartment we had was right at the top of the hill, so a steep climb but was very pretty, so peaceful with a lovely sea view. Would definitely come back here

Holiday
Visited this family run hotel on recommendation from A friend and so pleased we came. Fantastic hotel. Never been so relaxed on a holiday. Haven't left yet but booking for next year before we leave.

Fantastic place to stay In Koutouloufari
Loved our recent stay at this fabulous hotel – great view, great staff, lovely food & hospitality and great amenities – clean and nicely set out.

The perfect place
In what is now our 10th year here I recall why we come back. The staff here are just amazing. They feel like a long lost family. Please… if your trip to Crete is to satisfy your every wish…. Stay at Creta Blue x

Perfect place for a relaxing holiday
Our friends have been raving about Creta Blue for years, so we decided to join them for a holiday in September this year. Normally it takes us a few days to really relax into a holiday, but at Creta Blue we were properly relaxed within a few hours.
The setting is stunning, with sea views. It has a lovely pool with an infinity edge, and there are plenty of loungers and umbrellas around the pool for relaxing in the sun or shade.

U.K. Guests:
0203 2868177